So unfortunately, my professional biographer is out sick, so this will be in the first person.  Here is my story.

I started off like a lot of people.  In high school, I was just the iPod guy at parties. Whenever the music got stale, I'd take over and turn the party around. I had all the hits, fun new music my friends hadn't heard, and anything that would get people dancing. It was an early passion of mine, and I noticed what a great reward it was to be able to elevate people's experiences from the songs you'd choose. You get immediate feedback from the smiles on their faces.

At the time, in the 2000s, Hip-Hop was the main pop music on the radio. While I would enjoy playing that, I personally always loved electronic music, ever since I was eight years old and heard Alice DeeJay's 'Better Off Alone' on the radio on the way to a baseball game. I remember, my teammate said the song was stupid because it only had like three words. I thought "who cares?!"  From then on, my ear was always attracted to electronic music, even if my friends would laugh and jeer when I'd throw on Darude or Benny Benassi (through they would eventually give in and dance). That is why, for me, the experience that most dramatically changed my life, was going to university in Europe.

I miraculously got into a top level school in the United Kingdom, and without ever once being outside the US, I took a risk, packed my bags, and for four years I lived and went to school in Scotland's bustling capital, Edinburgh. What I soon realized was that over there, it wasn't Eminem or Jay Z that got played, but David Guetta, Tiesto, & Calvin Harris.  The club scene was THE scene, busy seven days a week, and electronic music was what pumped through the airwaves and sound systems. To my amazement, I realized that my musical tastes had finally found their home.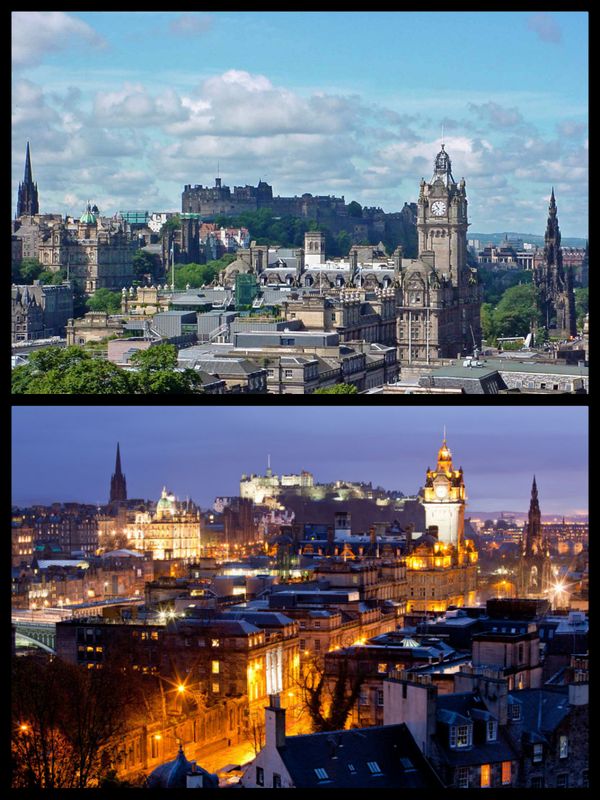 In Edinburgh, I developed a large friend group of great people early on, who would have these big parties before going out (Legal drinking age & nightclub age was 18). There'd be drinks, games, girls and guys, but as anyone who's ever been to a party can attest to, the music would constantly be switched from one iPod to another.  No sooner would a great song come on, than someone would switch it for some random "indie" track, killing the vibe (no offense to Indie music). I wanted a way to keep the good music and good times rolling, so I downloaded some music software, routinely scoured the internet for the best music, and would record these 2-hour party mixes, with fun, popular, flowing music that would keep the party going and the music on point.

The mixes became a hit, and every couple of months, I'd make a new one for people, with all the newest hits. Eventually, towards the end of my second year, I found myself at a party with one of the country's biggest nightclub promoters.  The mix that was on happened to be "House Party 1" (linked above).  He loved what he heard, asked who's mix it was, and we got introduced. He said the mixing and music was a step above the DJs he had at his clubs, and wanted to work with me as soon as possible.  I was excited, and stunned, as I had never even thought about taking this hobby into venues as an actual professional. Up until that point, all I was was a kid with a laptop and a good taste in music. I didn't know anything about DJing in an actual club, how to use the top equipment, run a sound system, etc. So I came home from Edinburgh for the summer determined to learn everything I could, so when I returned, I'd be able to walk into any club and rock the place better than anyone's ever heard.

Luckily, I worked hard, and in my Third Year in Edinburgh, I started playing live gigs at some of the most popular and packed nightclubs. It was amazing, and I kept getting asked to play new events. Over my last two years in Edinburgh, I would play shows around Scotland, and be the main act at some of DJ Mag's Top 100 Clubs in the World. I'd get access to see some of the biggest touring DJs, and occasionally get to open for them! It was a truly amazing experience.
By the time I finished school and moved back to Boston, I guess I had built up a name for myself, because I was contacted by some of the city's biggest promotion and nightlife companies, who wanted me at their events. I had stumbled on a talent I never really knew I had, and now I found myself talking to the people that talk to Tiesto, have dinner with Hardwell, and party with Avicii (R.I.P <3).  It was an amazing world to get into, and I immediately got started DJing, from bars and lounges, to packed nightclubs, to 1,000-people sold out boat cruises. No matter the venue, the thrill of seeing people enjoy themselves to your music has never gone away.

Over the years, and thanks to the amazing support from both friends and fans, I worked my way up the chain and was able to open for some of the biggest acts in music, including the Far East Movement, Dirty South, Dirtyphonics, Goldfish, DVBBS, CAKED UP, Gramatik, VINAI, and my personal heroes Dada Life and Audien. My music has got me on major Cruise festivals to the Bahamas featuring The Chainsmokers, Tyga, and Lil Dicky. I've been the main DJ on multiple cross-country tours, where I got to play epic parties around the country all while riding on Snoop Dogg's tour bus (Snoop wasn't there sadly, but the tourbus smelled like weed as if he was). I've done parties for major Boston radio stations like AMP 103.3, and Country 102.5 (yes I even DJ country parties).

For several years, I've been having the time of my life playing at fun venues around Boston, New England, and occasionally being flown around for fun shows around the United States. I've even gotten into the big wedding business. I've also shifted focus from solely finding and playing great music made by others, to producing it myself. From club pumping originals to fun remixes of classic songs, it's an amazing way to unleash creative energy, and the response from followers has been so positive, I find myself constantly working on new tracks, which has led to getting signed as an official remixer & Producer for one of the industry's major record Pools, Heavy Hits! DJs around the world are now downloading and playing my music & edits (shameless self-plug, but if you're a dj, can use "heymikefresh" promo code on HeavyHits.com to get access to all my music!).

One more major update has been that I've moved down to "music city" America, Nashville, TENNESSEE! I'm now working with amazing people and playing at wildly fun venues & great private events. This is the newest chapter of what has been a life full of thrills, and I could not be more excited!

It's funny, thinking way back, when I first came home from college, it was not an easy decision to pursue something like DJing. The temptation to settle for a more "secure" job that doesn't fulfill me was always there (mainly because my mother never stopped nagging me). But I chose to pursue this talent and passion, and that has made all the difference. I'm very thankful I'm not still "Mike the insurance auditor." Over the years, I've made so many amazing friends, interacted with so many amazing people, and have been able live well doing something I truly love.  I feel very lucky.

That's it for now. Hopefully this wasn't too self-indulgent for you, and if you're liking the music you're hearing and want to get in touch, feel free to contact me or follow via social media @HeyMikeFresh.

#PeaceAndLove